Vanuatu Campaign
Help Re-build Vanuatu Campaign
Cyclone Pam unleashed its fury on Vanuatu…
The images of the family depicted on this website and video are members of the Simbolo family
who live in the north of Efate' at Epule' Tops.
Photos were taken in happier times before the destruction of Cyclone Pam occurred.
Friday March 13th, 2015 will be etched into the memories of villagers right throughout the archipelago of Vanuatu after category 5 Cyclone Pam ravaged the 83 islands and lashed the landscape with 250kph+ winds and destructive rain.
Many islands were affected including Efate,' home of the nation's capital, Port Vila and many villages including Epule' Village, based beside the Epule' River in a remote area of North Efate'.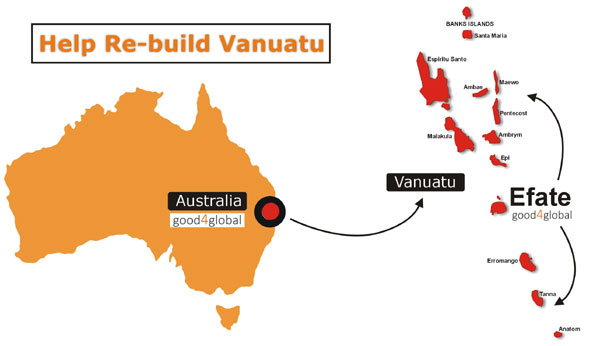 Ni-Vanuatu (the name given to people who are native to Vanuatu) are by nature friendly, caring, fun-loving people who open their lives and hearts to thousands of Australians each year as they escape the bustle of Australian cities and townships to enjoy a peaceful, relaxing holiday in the idyllic, tropical setting of Vanuatu.
After the devastation of Cyclone Pam was revealed, many Australians are hoping to help their friends in Vanuatu re-build after losing their homes, possessions, crops, jobs, fresh water and in some areas, a secure food supply. Please help the people who have welcomed so many Australians to their shores by donating or purchasing tickets in this "Good for Global" raffle. Be sure your support is felt in the most needy areas. Donate or purchase a ticket on-line now.
Please help to re-build their villages and restore their smiles!
Good 4 Global is a not-for-profit organisation
Charitable fundraising Licences are CFN/23655 and CFN/23566

Supporting Local Improvements
We support and fund programs designed to benefit children in the areas of health, education and sustainability.
Community engagement and support from local communities are key drivers for each program we promote.
Every child should have the opportunity to participate.
Making a difference
We are proud to help fund charities so they can continue making a difference in the lives of people they support.
Best Quality Outcomes
We aim to get the best value of the funds we raise, so it makes sense to only support the programs with the best quality outcomes for money spent.
Helping Communities
Supporting families that have been affected by adversity.