HEART Publications
Background to HEART Publications:
Working as teachers in the Catholic Education School System, we became aware of the importance of providing educational resources for teachers imparting knowledge of the Catholic Faith to their students.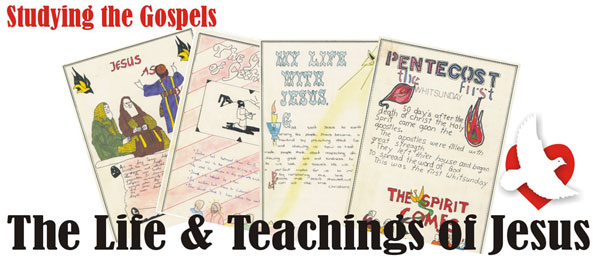 (Sample of Yr 4 student worksheets after studying the Gospels prior to the production of the Life of Jesus Activity Booklet).
HEART Publications was established in 1987 to produce and distribute religious educational resources to schools and parishes throughout the Lismore Diocese and later to schools and parishes throughout Australia.
The aim of establishing a Publications Unit was to strengthen the links between School, Parish & Home, providing additional support to teachers & catechists who were instructing their students in the Catholic Faith.
Bishop John Satterthwaite, Bishop of Lismore gave his blessing for HEART Publications to carry out this work in 1988.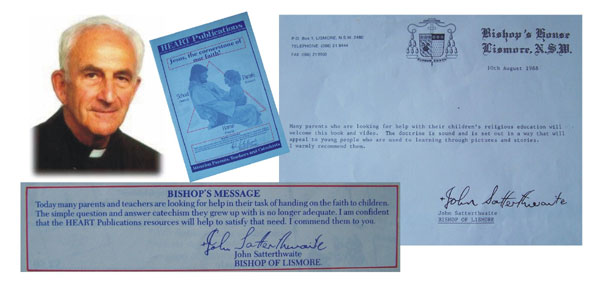 (Bishop John Satterthwaite passed away in Port Macquarie on April 23, 2016.
He was Bishop of Lismore Diocese from 1971 – 2001).
Bishop John and the Catholic Education Office (CEO) Religious Education Co Ordinator at the time, Mr Graeme Mellor endorsed HEART Publications resources by providing imprimatas for the activity booklets.
Many parents who are looking for help with their children's religious education will welcome this book.
The doctrine is sound and it is set out in a way that will appeal to young people who are used to learning through pictures and projects. I warmly recommend it.
John Satterthwaite BISHOP OF LISMORE 1988
A 15min video on The Life of Jesus was also produced which accompanied the Blackline Master activity booklet. Later in 1989 this video was accepted for distribution throughout the USA via Brown Publishing & ROA Media, Dubuque IOWA.
HEART Publications resources include …
1. 15 min The Life of Jesus Video
2. The Life of Jesus Blackline Master Activity Book
3. Infant (K-2) Blackline Master Activity Book (based on the Melbourne Religious Education Guidelines)
4. Lower Primary (Yrs 3-4) Blackline Master Activity Book (based on the Melbourne Religious Education Guidelines)
5. Upper Primary (Yrs 5-6) Blackline Master Activity Book (based on the Melbourne Religious Education Guidelines)
Sample of the first flyer and resource material … Jesus the cornerstone of our faith !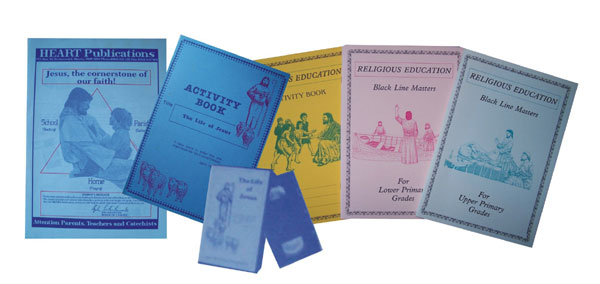 NEW REVISED DIGITAL FORMAT …
Introduction of Computers & Internet Communications:
With the introduction of computers and the internet, The Life of Jesus Activity Book was revised and upgraded into a digital format providing a resource kit that would be available for viewing and distributing via the internet.
The current digital version of the Life of Jesus Resource Kit includes;
31 Gospel story activity sheets (Blackline Masters).
54 B/W gospel story clipart images.
45 full colour gospel story clipart images for digital presentations.
24 Miscellaneous clipart for School Newsletters and Parish Bulletins.
14 Old Testament B/W clipart images.
The 31 x A4 activity sheets provide further clarification of the individual events in Jesus's life by cross referencing Bible passages. Other features of the activity sheets include; an introductory message, literacy-based activity, artwork for colouring and a final prayer and reflection for life. It is to be used in conjunction with the Good News Bible.
Additional feature of the Life of Jesus Resource Kit:
As there are many more gospel stories of Jesus that are not included in the activity booklet, additional clipart and full colour artwork has also been provided for the teachers, catechists or parents to create ongoing resources for their students & children.
VIEW the LIFE of JESUS RESOURCE KIT.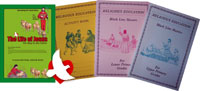 RE Black Line Master Booklets in the Series:
The Life of Jesus Resource Kit Ages 5 – 12yrs
Black Line Masters Ages 5 – 7 yrs
Black Line Masters Ages 8 – 10 yrs
Black Line Masters Ages 11 – 12 yrs