Wombat Network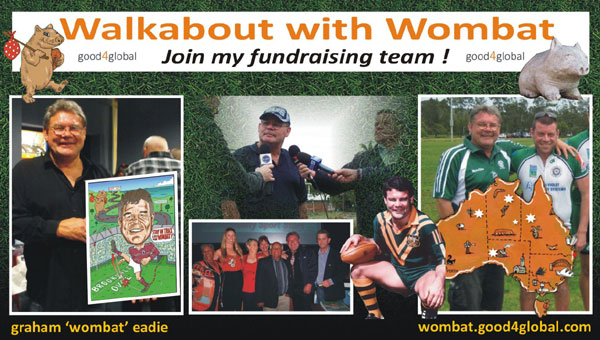 Join the Wombat Network
and raise much needed funds for your local community group.
NSW Permit Number GOCAU/1761.
Career Snapshot:
Graham Eadie, affectionately known as "Wombat" to his fans, (born November 25, 1953, Woy Woy, New South Wales) was one of the greatest players in rugby league during the 1970s and probably the best fullback to emerge under the six-tackle rule. His 1,917 points in first grade and 2,070 points in all grades were both records at the time of his retirement, and he was a key factor behind Manly-Warringah's dominance of the competition during the 1970s.
Eadie was graded by Manly in 1971 and showed immediate promise in the lower grades that season. The following year with the retirement of Bob Batty, he established himself as the team's first grade fullback and his powerful running style was already a serious danger to all Manly's opponents. Though not excessively tall at just under 180cm, Eadie's solid, almost tank-like build of around 97kg (15 stone) gave him abundant pace and so much strength that once he was on the move, few opposing defenders were ever able to stop him when he ran into the backline. At the same time, Eadie was an accurate line kicker and extremely safe under the high ball in an era when the "bomb" was coming into prominence.
Reference : Whiticker, Alan and Hudson, Glen; The Encyclopedia of Rugby League Players (3rd edition); published 1998 by Gary Allen Pty. Ltd.; 9 Cooper Street, Smithfield, New South Wales, 2164.
NRL Centenary of Rugby League Tribute DVD
on Graham Eadie (used with permission)
Introducing Graham 'Wombat' Eadie
The Rugby League Legend !
Introducing Graham 'Wombat' Eadie
His Impressive Stats
Introducing Graham 'Wombat' Eadie
The Community Fundraiser
View the fundraising site to see the 2 million dollar prize pool and
the video below to show you how easy it is to purchase a ticket and then earn free tickets !
4 steps to get involved and help strengthen your local community …
1. BUY a ticket on Wombat's fundraising site
2. NOMINATE a School, Club or Charity when you purchase your ticket
3. Copy & SHARE your unique link on your facebook
4. EARN Free Tickets if someone buys a ticket on your link
Go to the fundraising site … http://charitygoldrush.com/wombat
Register your community group  click here
and start your fundraising campaign !