Background
Our Pathway Journey …
Aussie Gateways Pty Ltd began operations in 2001.
Please view the background information to the AG Tourism Project which
received Federal Government Funding in 2001.
Prior to this date Aussie Gateways personnel worked for many years (commencing in 1989) on a number of programs aimed at improving lifestyle and achievement outcomes for Indigenous Australians.
In the past, Aussie Gateways personnel have worked on a contract basis for NSW Health, Australian Local Government Association, NSW Dept of Education, Employment, Training & Youth Affairs and the Commonwealth Dept of Education and Training.
Indigenous Health
1n 1991, a state-wide Media Campaign 'We're Looking Good' was developed for Grace Close-Kelly from the Aboriginal Health Promotions Unit, NSW Department of Health. The campaign commenced with a Ministerial Launch at the State Library, Macquarie Street, Sydney. The promotional video and health kits were produced to increase public awareness of the poor health status of Indigenous Australians and to provide strategies aimed at improving the long-term health prospects for Indigenous people.
In 1992, the 'Let's Get Together' song and video clip was produced to highlight the need for Aboriginals and non-Aboriginals to work together. It promotes the theme of all Australians sharing their skills in a positive and harmonious way, for the good of the nation.
In 1994, the 'Let's Get Together' concept was adapted by Pat Dixon from Australian Local Government Association and re-named "Walking, Talking, Working Together." Aussie Gateways personnel provided additional resource material and assisted workshop facilitators from KPMG throughout Queensland.
Reconciliation Process
In 1995, the promotional song and video clip 'Let's Get Together' was presented at the National Reconciliation Conference held in Adelaide S.A., for The Council for Aboriginal Reconciliation.
Education Pathways
Continuing the theme of working together, Aussie Gateways personnel worked with Dianne Roberts (Principal Minimbah School, Armidale) to set up in 1997, 2002 and 2004 Educational Pathway Conferences for Indigenous students.
Tourism Media Promotions & Marketing
Aussie Gateways received a Federal Government grant in 2001 from Dept of Industry, Tourism and Resources to set up on-line tourism promotions and media resources to promote the Northern Rivers region of NSW as a tourism destination. This was set up as a cooperative marketing campaign involving television, radio, print media and internet promotions; all produced by Aussie Gateways.
Career Pathways
More recently Aussie Gateways worked under contract to organize and manage the 2010 Indigenous Jobs Market held in Mt Druitt, Sydney, NSW. This project was funded by DEEWR.
In 2012 Aussie Gateways was appointed to the Indigenous Employment Panel 2012 – 2015. The IEP was set up by the Australian Government – Department of Education, Employment and Workplace Relation (DEEWR).
Mentoring & Monitoring Process
To date, Aussie Gateways personnel continue to work with individuals and organisations to support initiatives that allow all young Australians to establish a career pathway that will lead to a fulfilling life.
For more information about the services offered by Aussie Gateways click here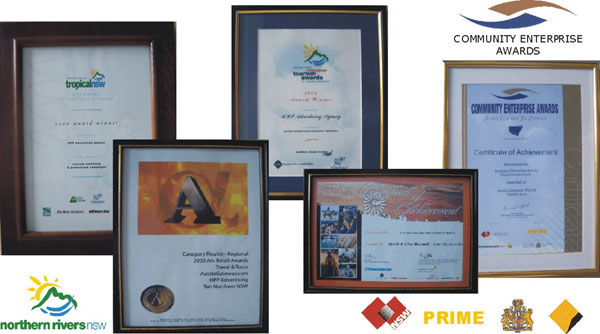 RECOGNITION AWARDS
HPP Advertising Agency (managed by Aussie Gateways personnel) has gained numerous awards for its work in tourism marketing and promotional campaigns.
Northern Rivers Regional Tourism Awards
Winner 2000, 2001
Tourism Marketing & Promotional Campaigns
Australian TV Retail Awards
Category Finalist 30 sec television commercial promoting regional areas of Australia.
Awards Australia
Community Enterprise Awards
Category Finalist 2004 Business Enterprise Award
NSW / ACT