Career Pathways
Network – Development Programs – Career Pathways – Mentoring
Our vision statement …
"Let's get together … Indigenous and Non Indigenous Australians share this nation. When we come together we can benefit from the many gifts and talents people from all cultural backgrounds have. Coming together in respect and friendship will lay the foundation for all Australians to find health and happiness. When we come together for the good of all people, we can reach our potential as a 'whole' nation."
Working with Aboriginal people who held key positions in Aboriginal communities and in the Australian workforce, Aussie Gateways personnel have researched and developed a variety of resources and programs designed to improve the health status of Aboriginal people, encourage greater Aboriginal representation in Local Government and facilitate increased education and training opportunities for Aboriginal people.
In fond memory of Frank Roberts (Look, Listen & Learn)
(Passed away in February 2011)
Australian Representative in Boxing
Tokyo Olympics 1964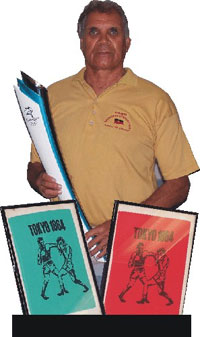 Former Sport Facilitator at Minimbah School Armidale :
Known as 'Honest' Frank Roberts by the UNE boxing club, Frank started boxing at the age of 19 years. He started in the Light Welter Weight Division in 1963.
Frank went up a weight in 1964 and won the NSW title, he went on to win Australian title which saw him chosen for the Olympic Squad to go to Tokyo.
Frank's Advice to the next up and coming sport stars of the future :
Have respect of your elders and people around you. Learn from and work with others around you. Train and work hard towards your goals. Never give up and always do your best.
Proud Moments in his life :
Representing Australia at the Olympic Game in Tokyo 1964.
Carrying the Olympic Torch in Armidale.
To carry on the work … The Frank Roberts Scholarship Fund – click here